Are you enjoying the process of being consciously aware of the Soulstice energies intensifying each day? In addition to the Solstice energies, tonight we experience a full Gemini Supermoon at 7:05 pm EST and the Geminid meteor showers. Take a deep breath and feel the extra energy zinging thru your being.
Imagine yourself at the beginning of history…. The days are getting shorter, darkness seems to be taking over. You're worried the world is ending. You look in the sky at night and see a huge bright moon. When you look in another direction stars or fireballs are shooting thru the sky. Do you feel a sense of hope and wonder that everything will turn out well?? Step thru the portal into the Golden Higher Consciousness era
When you toss today's delightful Gemini full moon energy into the Solstice mix you have an opportunity for lighthearted enjoyable action.
Kyrona Hope said in a recent email with this full moon you get a call " to connect to your essence, to remind yourself to remain free spirited, to be playful, to have fun & be funny! With all going on in the world this festive season – this full moon urges you not to take yourself too seriously, to lighten up a bit, release the ties that bind, throw our the rules that don't serve, think out of the box, step into the magic, be inspired and be free!!"
"The December Full Moon is also activating what astrologers call a mystic rectangle. Just as the name suggests, mystic rectangles are magical and mystical and will be helping to supercharge a lot of energy. From an intuitive standpoint, this mystic rectangle is going to be opening up a portal into a new realm. This realm will be accessible to those who welcome in the energy and in many ways, accessing this realm is going to be like your fast pass into the energy of 2017.
Life is all about creating and relating to the whole. Today's activities integrate the three aspect of Soulstice I've been writing about. By decorating your space you can take care of you, connect with nature and reach out while you celebrate. You may wish to do a bit of decorating each day to keep the magic of Solstice flowing.
Taking Care of You
Be Playful, Laugh, Sing, Dance. Whether you live in a cold or warm climate, be creative. If you are lucky to have snow, make snow angels, throw snow balls at a target, go skating or tobogganing. Take advantage of any sunny moments to glory in the knowing that the days will soon be getting longer. Yet cozy up when it gets dark and enjoy the quiet moments just for you to relax and bliss out.
Connecting with Nature and Reach out to others.
Bring the outdoors in. Invite friends to help you decorate, or have them come to a solstice gathering to enjoy your efforts.
Celebrate the solstice with fresh foliage. Fresh flowers and green foliage remind us that winter will fade and life will begin to grow again! Traditional winter solstice plants include: oak, mistletoe, evergreens, holly and ivy.
Another key feature in winter solstice decor is circles. The circle represents the cycle of the seasons, as well as the sun, which makes all life is possible. This can be a great theme throughout your solstice decorating.
Traditional Solstice Decorations:
Yule Wreath circle symbolizes the yearly cycles. This is customarily made out of fresh foliage, such as evergreen leaves.

Yule Tree symbolizes life and growing. Much like a fresh Christmas tree, decorate with festive ornaments and lights. You may want to select a live outdoor tree and decorate it with dried citrus fruit to represent the sun, pinecones dipped in peanut butter and bird seed and crafts made of natural items.
Yule Log symbolizes the old year passing. Traditionally it was made of oak. Decorate it with holly and burned to welcome Solstice and the return of the sun. If you have a fireplace, burn the Yule log, but remember to save a little bit to start the fire for the following years celebration. (Its a very old tradition.) If you don't have a fireplace you can drill three holes in the yule log and place candles in it.
Here's a wonderful tradition you may wish toincorporate into your Soulstice Celebration. Invite your friends to participate.
"An oak log, plus a fireplace or bonfire area is needed for this form of celebration. The oak log should be very dry so that it will blaze well. On the night of Yule, [ each person present can] carve a symbol of theirhopes for the coming year into the log. Burn the log to release it's power. It can be decorated with burnable red ribbons of natural fiber and dried holly leaves. In the fireplace or bonfire area, dried kindling should be set to facilitate the burning of the log.The Yule log can be made of any wood (Oak is traditional). Each releases its own kind of magick.
Ash —

brings protection, prosperity, and health

Aspen

—

invokes understanding of the grand design

Birch

—

signifies new beginnings

Holly

—

inspires visions and reveals past lives

Oak

—

brings healing, strength, and wisdom

Pine

—

signifies prosperity and growth

Willow

—

invokes the Goddess to achieve desires
Mistletoe symbolizes peace and affection and is hung around the home. Originally from a Norse legend of the love for a mother the goddess of beauty and love who sought to protect her son by bading everyone and everything to do him no harm. She did not tell the mistletoe. so he was shot with an arrow made of mistletoe wood. "Frigga's tears of grief turned into the mistletoe's white berries and brought him back to life. Filled with gratitude, she praised mistletoe as a symbol of love and peace and promised that forevermore, anyone who stood under it would be kissed."
Holly -symbolizes fertility and eternal life, During the holiday season, people all over the world deck the halls with boughs of holly. The prickly green plant and its red berries are a popular decoration that dates back to the ancient Druids who thought it had magical powersof protection.
Boughs & Garlands symbolizes the continuation of life.Evergreen trees were used as decorative symbols of eternal life by ancient Egyptians,Chinese, and Hebrews and used in Winter Solstice celebrations. Decorate throughout your home, especially above doorways or on banisters.
Fires and Candles fire symbolizes the sun's light. Either burn candles or light a fire in your fireplace. (Toss in spring of fresh herbs to add a fantastic smell.)
Solstice Lanterns –symbolize the return of the light. Many cultures have celebrations of light. You can borrow from their lantern making traditions to create solstice lanterns. Here is the link to a "how to" blog, using natural items to craft your own solstice lanterns using flameless tealight candles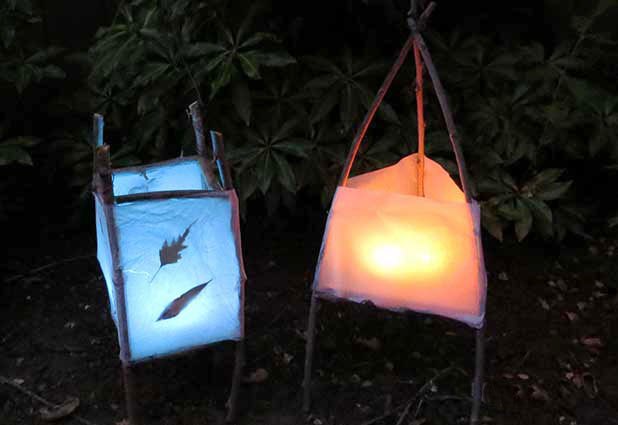 In the upcoming blogs I'll provide ideas for ways to celebrate the solstice with your friends, or even create a community event. I'll share some of the activities I've enjoyed over the years.
References
http://gostica.com/astrology/full-moon-in-gemini-on-december-13-a-spiritual-perspective/
http://www.flowershopnetwork.com/blog/winter-solstice/
http://www.earthwitchery.com/yule-log.html
http://www.bluemountain.com/12-days-of-christmas/history-traditions
Image: Moby and the Snow Angel by Kathleen Tyler Conklin Flickr creative commons